As a healthcare attorney and national advisor on healthcare policy, Ted understands how certain healthcare regulations increase costs but don't improve care. Ted will continue to fight to eliminate that kind of wasteful spending. He knows how our healthcare system works, its challenges and possibilities, and that everyone in Connecticut deserves access to quality, affordable healthcare. Ted believes that securing our healthcare system for the future means controlling rising costs while promoting innovative ways to offer quality healthcare more affordably. As your State Senator, Ted will continue to work to:
1. Expose and control healthcare costs
Ted believes the first step in controlling healthcare expenses is to know the actual costs. Making costs transparent can help eliminate wasteful spending and allow consumers to make informed financial decisions about their healthcare.
In 2012, the Connecticut General Assembly established an All-Payer Claims Database (APCD) to collect cost information from medical, pharmacy, dental, Medicare, and Medicaid claims. The APCD will provide this data to businesses, providers, and policy makers. Some states, such as Maine and New Hampshire, have already realized substantial savings for businesses and consumers by capitalizing on APCDs.1
Connecticut's APCD is still in its early stages. Ted believes we must devote more resources to getting this database up and running so that we can ensure Connecticut's healthcare dollars are spent wisely.
2. Equalize rates among healthcare providers
A growing trend is for large hospitals to buy up small, locally-owned physician practices and create new hospital outpatient facilities. When that happens, consumers are often hit with higher rates and new "facilities fee" charges and "surprise bills" of $100 or more. You may have noticed this on your own medical bills—new and higher fees for no apparent reason or without explanation. Although the state legislature recently passed a bill requiring patients to receive advance notice of these fees, Ted believes the legislature needs to go further to protect patients from these added expenses.
Ted knows that patients should be charged fair rates for services provided at hospitals, hospital outpatient facilities and free-standing physicians' offices. For example, in the 12th District, the average bill for a basic chest X-ray at a local, independent, board-certified radiologist practice runs about $80. The bill for that same X-ray at a nearby hospital outpatient center skyrockets to $400—5 times more. These higher rates can have a direct impact on consumers' pocketbooks: for a consumer with 20% coinsurance, their out-of-pocket responsibility balloons from $16 to $100. This rate differential also impacts Connecticut taxpayers who fund the health plans of public sector employees. To address these cost differences between providers, and to protect consumers and taxpayers, Ted supports a reimbursement model consistent with the recommendations made by the national, nonpartisan advisory committee MedPAC.
3. Support independent living for seniors and people with disabilities
The numbers tell the story. Connecticut's senior population is expected to grow 40% by the year 2025.2 There are an estimated 13,000 people with disabilities and chronic illnesses in the 12th District. Approximately 70% of people over the age of 65 in the U.S. will require some form of long-term care in their lives.3 The impact of this issue on taxpayers is striking. In Connecticut's 2014 fiscal year, long-term care represented approximately 40% of Medicaid spending,4 and Medicaid was almost a quarter of the State's budget.5 The cost to families and caregivers is even more dramatic.
There are a number of alternatives to address this growing challenge of care and the costs to individuals, families, and states. Many strongly support the idea of providing access to care outside of nursing homes as the ideal approach, and the most cost-effective. Studies show we can save 70-80% of long-term care costs by connecting people with home and community-based services, as opposed to institutional care.6 For example, according to the Connecticut Home Care Program for Adults with Disabilities, the average yearly costs of home care for individuals with degenerative neurological conditions is $16,000 compared to a cost of $72,000 per year if the individuals were on Medicaid and living in a nursing home.7
Ted believes it is important for seniors and persons with disabilities to have the freedom and flexibility to choose to remain in their homes and communities, not to be forced into nursing homes, and to receive the assistance they need to be cared for and feel respected and valued. There are a number of efforts already being considered to alleviate this problem, including the  Assisted Living pilot programs implemented by the Connecticut Housing Finance Authority in Seymour, Glastonbury, Middletown, and Hartford. Ted supports these types of innovative approaches and points to local examples like the Strong House in Madison, Orchard House and the Shoreline Village community in Branford, and remote monitoring technologies currently in use by VNA Community Healthcare in Guilford. Additionally, he would like to see Connecticut take full advantage of the  Community First Choice Option, a program available through the federal health law that allows Medicaid to cover personal care services.  Additionally, Ted supports the "Granny Pod" concept, supported also by AARP which is a concept that would allow small residences for elder family members to live in on your property.  In the 2016 legislative session Ted supported a Task Force to examine the zoning implications of "Granny Pods."
Fast Track Home Health Care Approval Program for Seniors Results Announced: Sen. Kennedy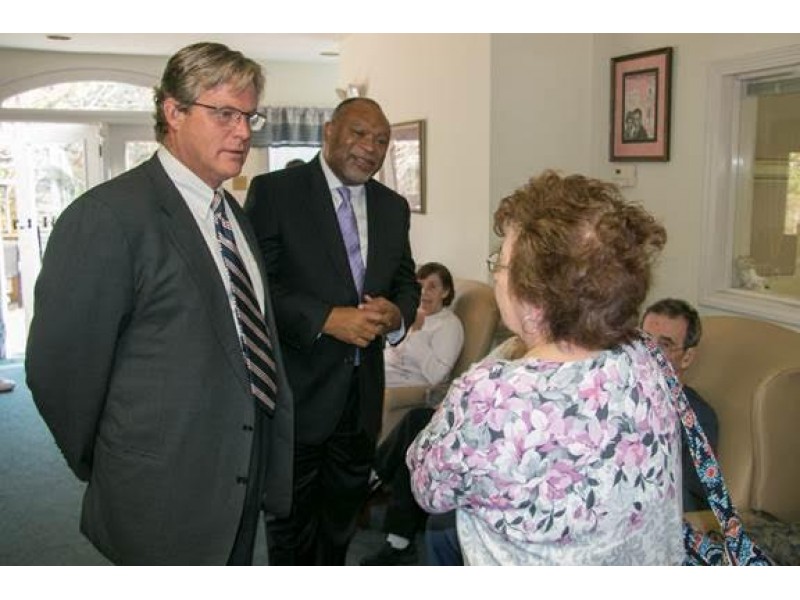 This summer Department of Social Services implemented a pilot program designed with Kennedy to expedite care approval.
Source: patch.com/connecticut/branford/fast-track-home-health-care-approval-program-seniors-results-announced-sen-kennedy
Last year, the Connecticut Department of Social Services launched a pilot program to help seniors receive prompt approval of applications for home care services and avoid costly nursing home or hospital stays.  This program was modeled after SB 271, a bill that I introduced to streamline applications, promote care giver home care access and reduce taxpayer spending on more costly institutional care.  The pilot program has been in effect for only a year but has already helped hundreds of Connecticut seniors receive prompt approval for home care.
See Also CHILDREN & EDUCATION: Establish a Comprehensive Mental Health Plan for Children and Young Adults
1. Health Cost Containment and Efficiencies, National Conference of State Legislatures Brief, May 2010.
2. DSS "Strategic Rebalancing Plan: A Plan to Rebalance Long Term Services & Supports," 2013.
3. http://longtermcare.gov/the-basics/
4. http://kff.org/medicaid/state-indicator/distribution-of-medicaid-spending-by-service/
5. http://ballotpedia.org/Connecticut_state_budget
6. "Eight Ways to Reduce State Healthcare Costs," Xerox
7. http://www.nationalmssociety.org/Chapters/CTN/Advocate-for-Change/Current-Advocacy-Issues/Connecticut-Home-Care-Program-for-Adults-with-Disa